The Top Nursery Window Treatment Ideas In Destin
As an expecting parent in Destin, you hope to make sure every aspect of your little one's nursery perfect -- including the window treatments. But in advance of selecting your window treatment, don't forget that safety and functionality are essential. Babies are able to bring down drapes or become tangled in the pull cords of blinds. These treatments won't block exterior light and drafting for good sleep either. Instead, choose safe, efficient louvered shutters or cellular shades as window treatments for your nursery in Destin.
Louvered Shutters Keep Your Nursery Stylish, Safe, And Cozy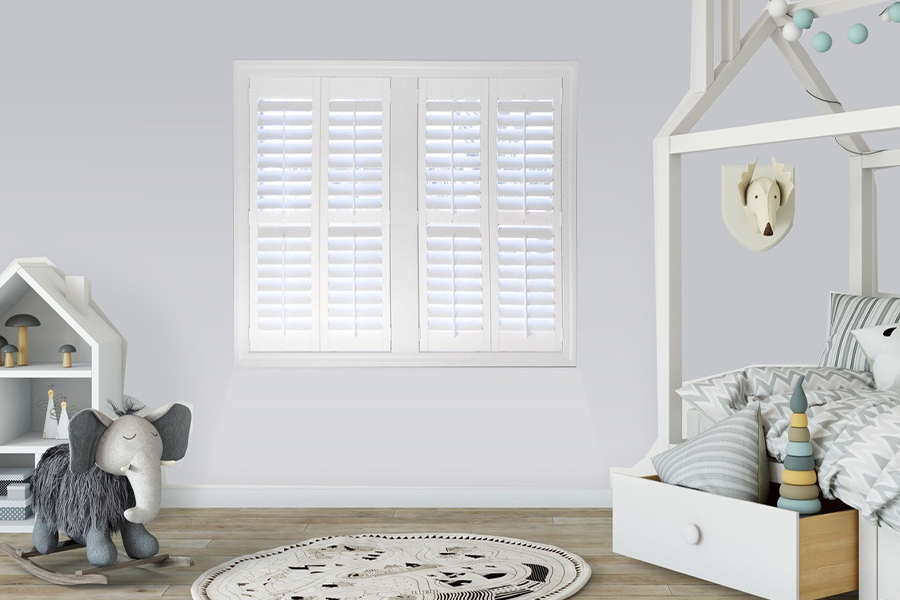 Louvered shutters might not be first on your list for nursery window treatment ideas in Destin, but they really are the best choice! These superior window treatments look stunning in any area. Their louvered panels provide an interesting accompaniment to the softer furnishings usually associated with a nursery. You might install
white faux wood Polywood® shutters
in spaces with bright or lighter-toned colors. Stained hardwood shutters might be more suitable when your nursery has nature-themed pieces or you would like to harmonize with existing wood trim. And when you modify the design as your baby grows, your shutters will continue to work well with the space's altered feel.
Louvered shutters utilize a particular construction that makes them perfect for kids' spaces. Instead of installing drapery or corded options for a baby or toddler to yank on or become entangled with, plantation shutters feature rigid panels with adjustable louvers incorporated into a frame around the window. They even wipe off easily whenever they inevitably get smudges from tiny hands.
Shutter louvers and panels provider a few different methods for managing natural light and privacy in your child's space too. Swing open the panels for a sunny spot to play or secure them and turn the slats out to allow some sunshine and shift it toward the spot where your little one plays. Then shut the panels and louvers to keep out nearly all sunlight for bedtime and naps.
Closed interior shutters block heat loss as well. Air won't flow through solid wood and faux wood like it can through cloth window treatments. And our 5-star Ovation® and Polywood shutters use first-rate manufacturing techniques to minimize gaps where air might get past. Polywood shutters also have weatherstripping that causes them to be the most energy-efficient nursery window treatments in Destin and ensures your room remains at a consistent temperature for a soothing sleep.
Cellular Shades Bring Efficiency and Versatility To Nursery Windows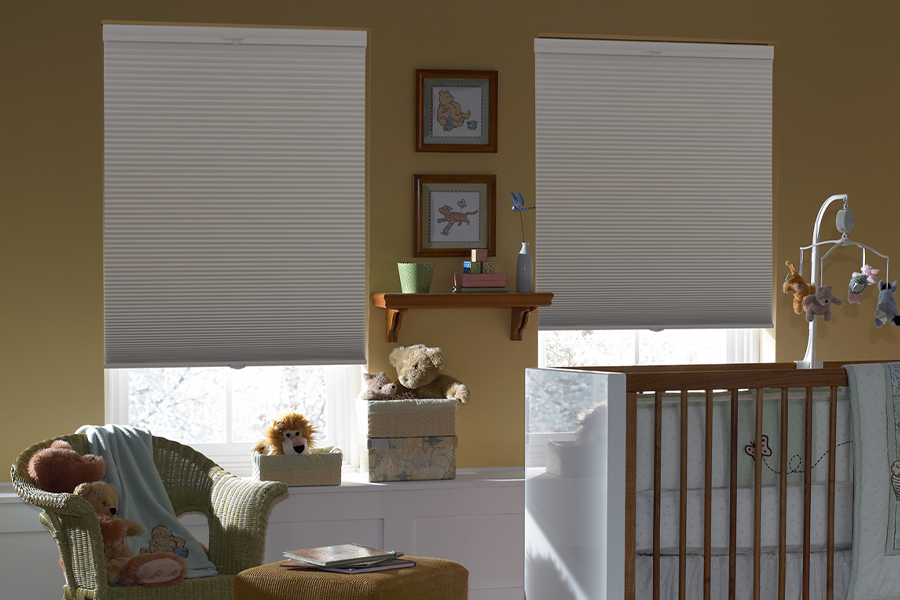 In the event you would rather a softer option for your nursery window treatments,
consider cellular window shades.
These window coverings come in different materials, colors, and patterns for you to select from. You'll even come across styles including top-down/bottom-up shades that provide more flexibility with outside light and privacy or cordless shades that your little one won't get ensnared in.
The leading benefit of cellular shades is their ability to save energy. Their composition features small honeycomb-like cells that confine air going through your windows before it enters the nursery. They assist in keeping the the space at a consistent temperature and energy expenses in check.
Need Additional Nursery Window Treatment Ideas In Destin? Talk To Sunburst
No matter if you need nursery window treatment ideas in Destin or window treatments for a different room of the house, Sunburst Shutters Destin is here to help. We customize a wide selection of window products that make your property more stylish and comfortable. Contact us at 850-203-0419 or fill out the form below to request a complimentary in-home demonstration and discover amazing window treatments in Destin.