Destin Specialty Window Treatment Guide
Each Destin home is unique, every one with its own style and its own needs. Likewise, all the windows in your Destin home are different too. Their size, shape, the way they face and more will differ and affect the type of window treatment complements them best.
But more than any other factor, the style of window is typically the most important for determining your perfect window treatment. Here are our team's picks for window treatments to fit the unique window varieties found in Destin homes.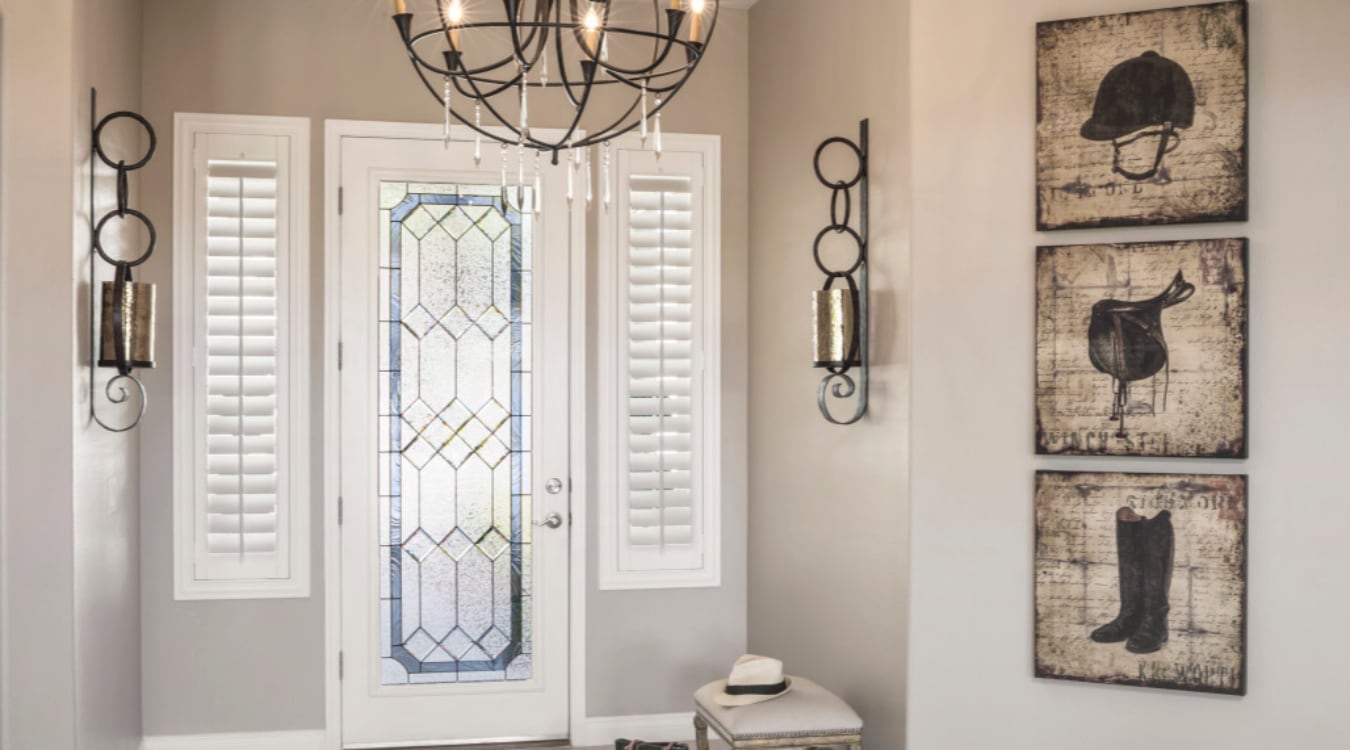 Sidelights are those tall, thin windows typically found on either side of the front door in Destin homes. Picking a great window treatment for sidelight windows is particularly important for a few reasons. One, they're a focal point of your house, since most people's eyes are naturally drawn to the front door when looking at a house. Two, people–from your mail carrier to guests to door-to-door salesmen–are going to see them up close, which makes a sidelight window treatment all the more important to make sure you maintain your privacy.
What we recommend for sidelight window treatments: Plantation shutters. Shutters don't just offer your home classy looks and unrivaled privacy, but they're also the easiest window treatment to get customized for long, thin sidelight windows.
See More Sidelight Window Treatments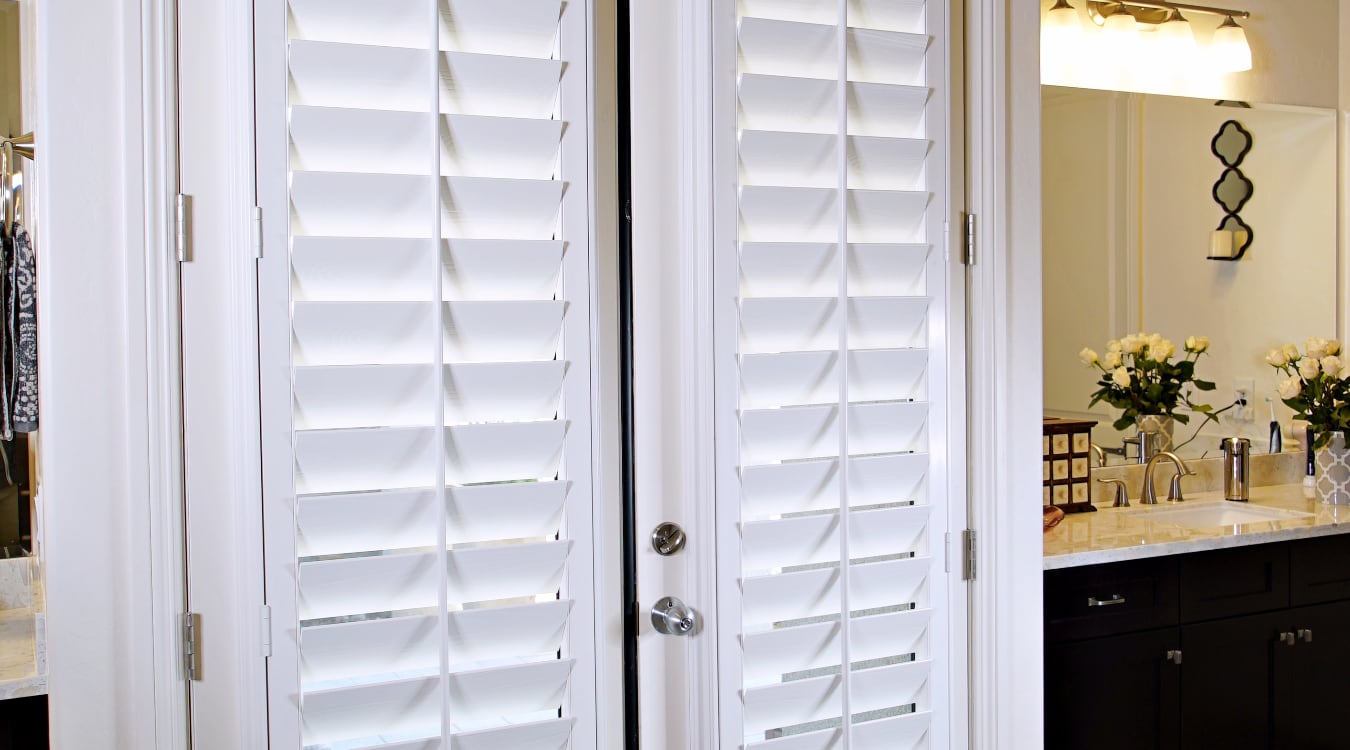 French doors are a typical sight connected to patios or back yards. Since they're double doors, hinged, and typically have large glass panels Destin homeowners have a substantial opportunity to improve their style and light control. French doors open and close often, so they would do best with a resilient window treatment that will still let you control the amount of light you let come through the window.
What we recommend for French door window treatments: Plantation shutters. Since they're able to be installed directly onto the window and are extremely durable, shutters are the perfect partner for French doors. Their timeless style and energy-efficiency are also bonuses for your French door.
See More French Door Window Treatments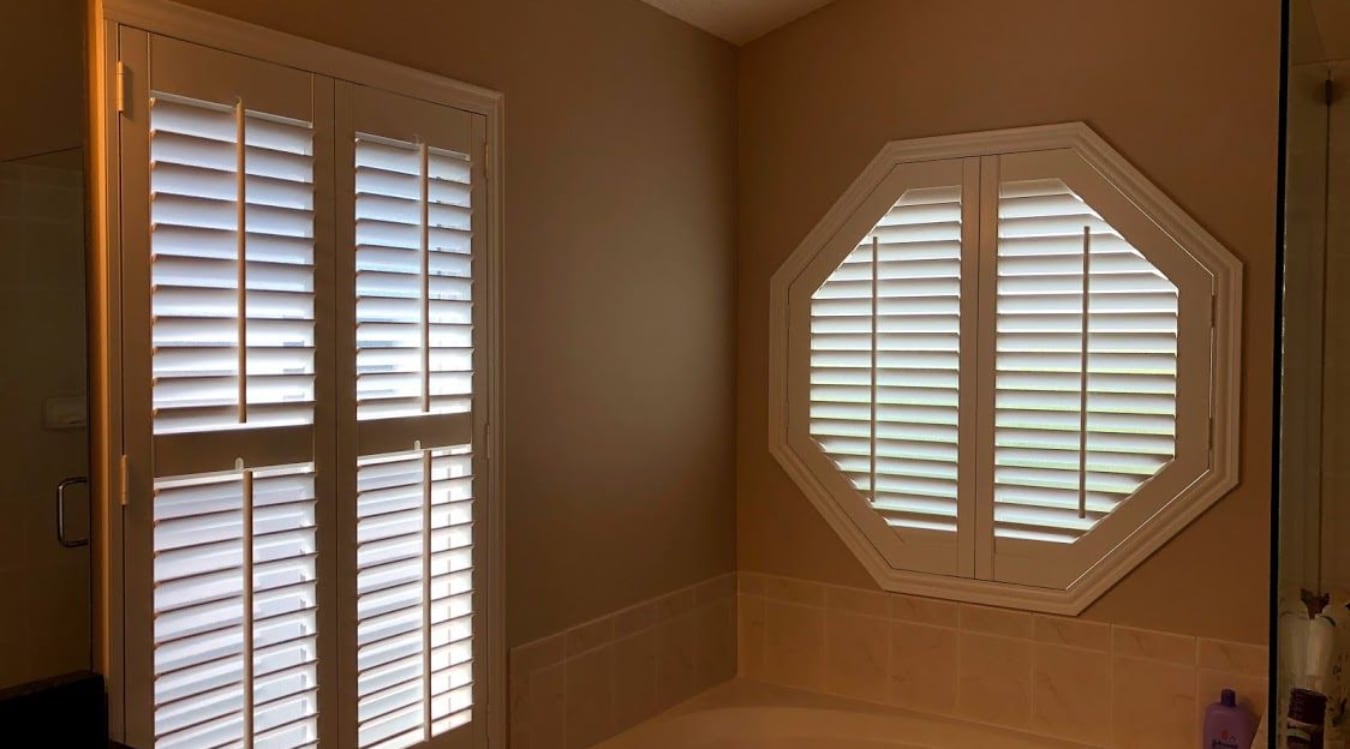 Octagonal windows are some of the most appealing and visually striking windows there are in Destin homes. With their unique shape, homeowners would be careless to cover them up with a standard shaped window treatment like curtains or blinds. Instead, go with a window treatment that can be customized to the window's unique geometry so you'll always reap the benefits of your octagonal window.
What we recommend for octagon window treatments: Plantation shutters or window film. Shutters are built to fit seamlessly in an octagon frame, preserving its unique shape and looks. Similarly, window film applies directly to the glass, keeping the octagonal window's awesome shape on full display.
See More Octagon Window Treatments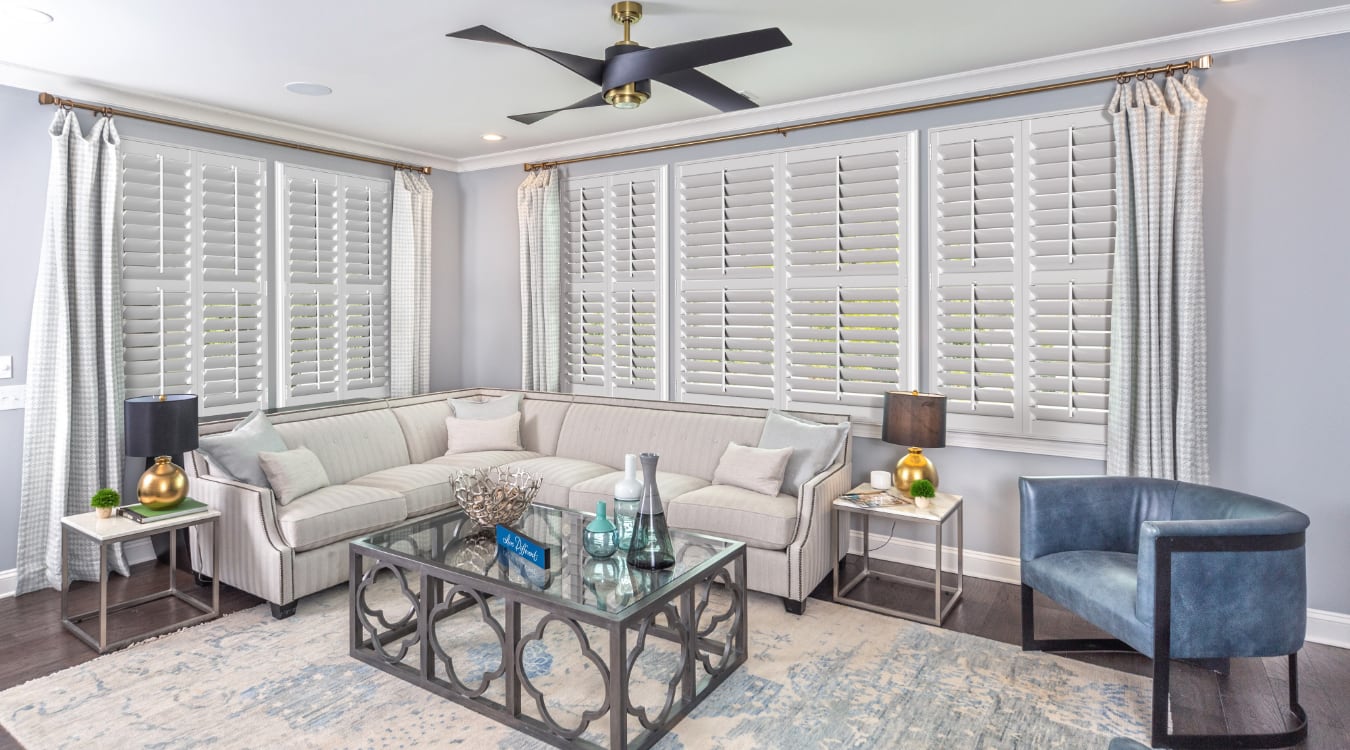 When we talk about "wide windows," we refer to windows wider than 4'. That covers full wall windows that stretch further than what normal window treatments would cover. When designing for wide windows, Destin homeowners might want to think about how effectively a window treatment will let them keep their privacy and block the sunlight and heat flow that wide windows usually allow. Finally, wide window treatments should be low maintenance in operating, as there's a lot of space that they'll need to cover.
What we recommend for wide window treatments: Roller shades, panel tracks or plantation shutters. Roller shades operate easily, and their subdued look works well with wider windows. Panel tracks are a type of shade with large panels of fabric that slide along a track that are perfect for wide windows. Plantation shutters add a bit better energy efficiency and privacy than shades do, so if maintaining a consistent temperature is a priority, shutters may be your best bet.
See More Wide Window Treatments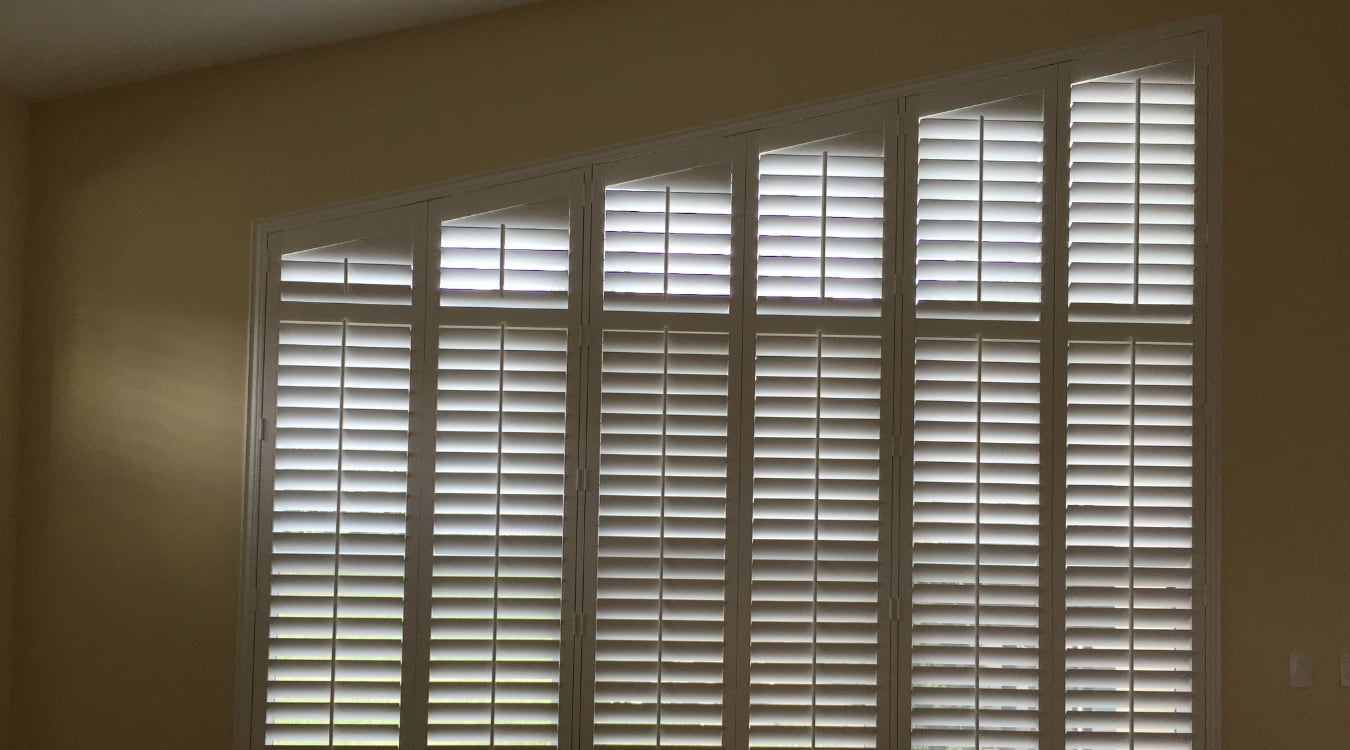 Rake or angled windows are popping up a lot more in modern home design. The problem with angled window treatments, similar to octagonal windows, is finding one that fits your unique window geometry. Keep in mind as well that several angled windows are in places that are harder to reach, like where the ceiling and wall meet at a corner, so a window treatment that doesn't need to open and close often is typically best for rake windows.
What we recommend for angled and rake windows: Plantation shutters. In addition to being completely customizable to fit the exact angles and shape of your angled windows, but the shutter louvers can often be set at a single, perfect angle so you won't need to readjust them - awesome for windows that are hard to reach.
See More Angled Window Treatments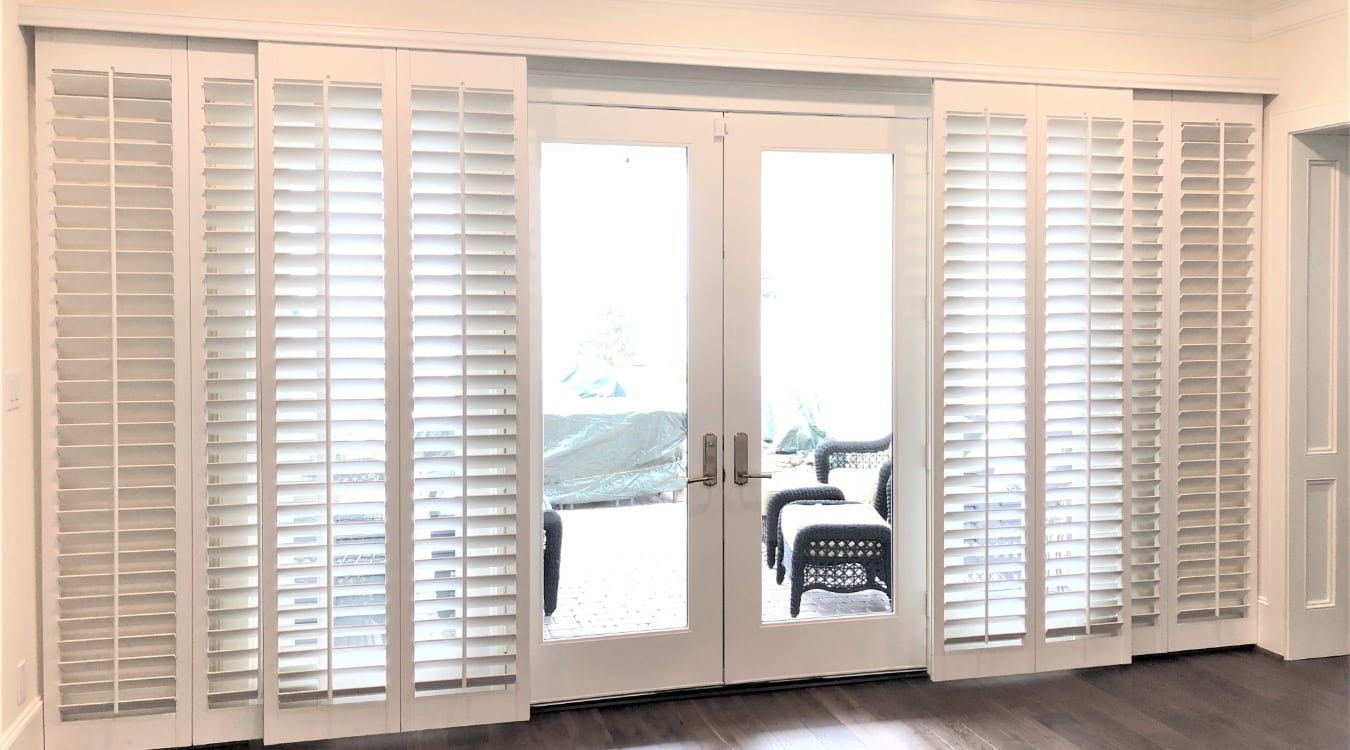 Similar to french doors, the window treatment you get for a sliding glass door needs to let you open and shut the door without any hassle whatsoever. Additionally, a sliding glass door treatment needs to be sturdy and able to withstand the frequent usage a sliding door sees. Finally, sliding glass doors are one of the least energy-efficient windows, since they not only let energy pass through the pane but also through the door opening. A window treatment that can reduce energy transfer should also be a top priority for sliding glass doors.
What we recommend for sliding glass doors: Plantation shutters or panel tracks. Either one can make it easy to operate a sliding door. Panel tracks also offer an array of patterns and textures to pick from, opening up your options and giving you a bigger palette to work with. Plantation shutters are available in numerous configurations to fit any sliding glass door, and offer the most energy efficiency of any window treatment.
See More Sliding Door Window Treatments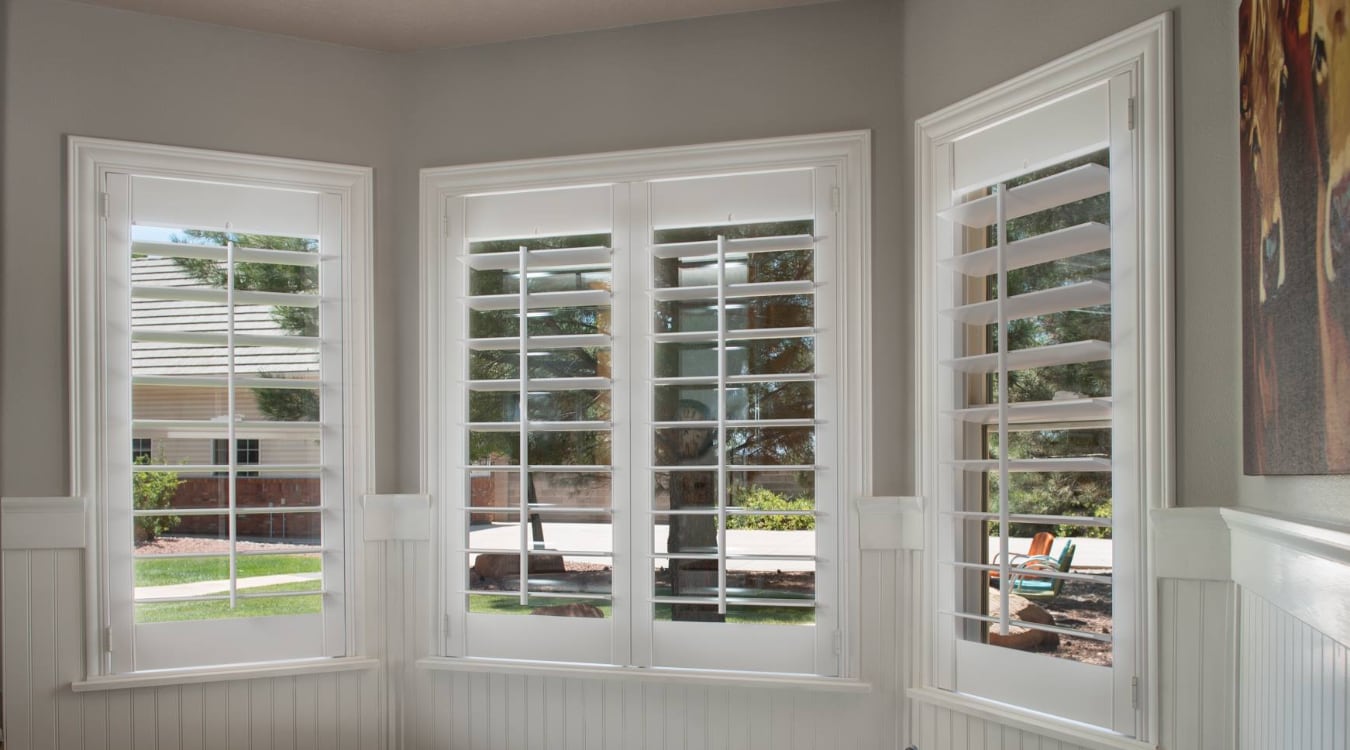 Bay windows are unmistakable. The long panes, concave layout, and wide view you get from bay windows are distinct from other windows, so they need some special consideration when choosing a window treatment. Destin homeowners should look at window treatments that complement a bay window's eye-catching shape, protect your privacy, and look stunning in your family room or living room. Lucky for us, there are a few window treatments that fill all those roles.
What we recommend for bay windows: Roman shades, cellular shades, or shutters. Both cellular and roman shades function well with bay windows because each shade covers a single pane, giving you a lot of flexibility in how much window area you want covered. Likewise, plantation shutters can be installed on each separate pane on bay windows, but can still give you even more freedom in window coverage with the moving tilt-rod and louvers.
See More Bay Window Treatments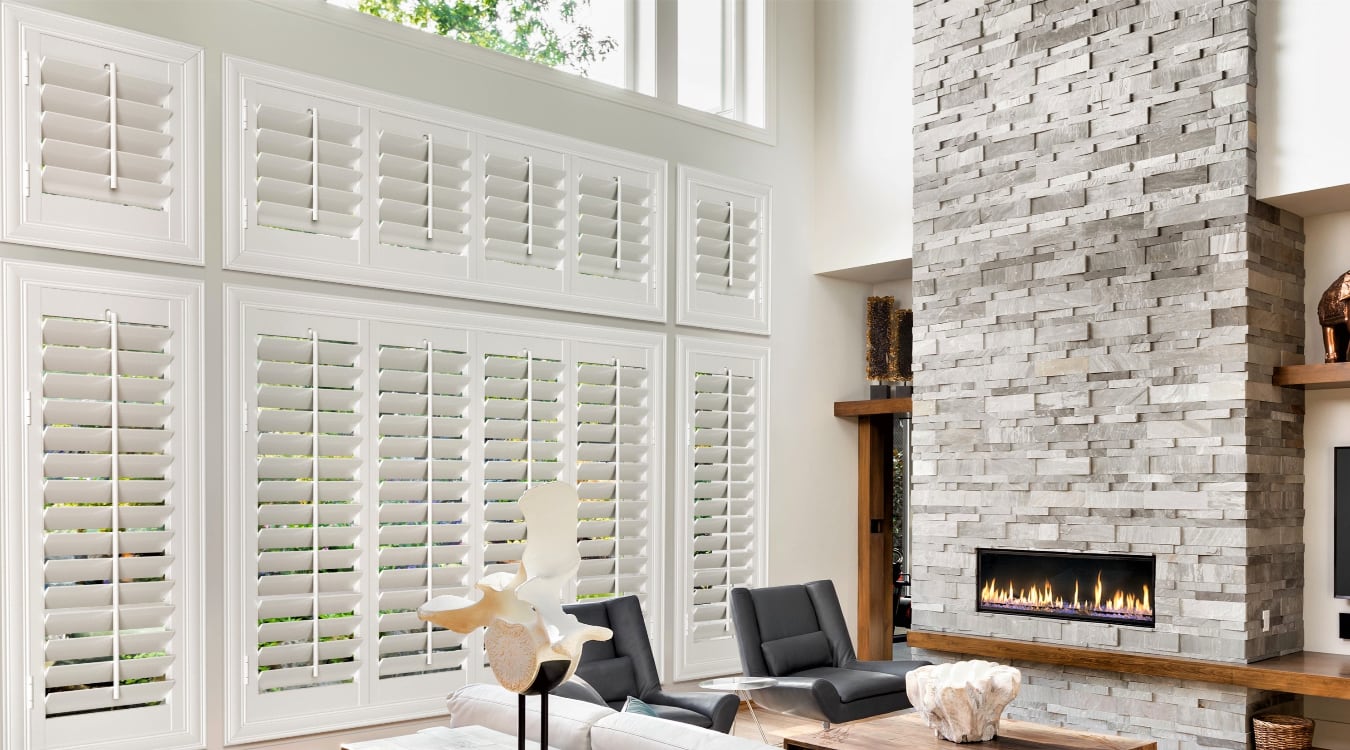 No matter their shape or style, windows that are close to your ceiling can be hard to put window treatments on. Normally, the tops of the windows are out of arm's reach, and breaking out a stepladder every day can be a hassle. That means that Destin homeowners with taller windows should opt for a window treatment that you can either keep in a single position, or operate remotely. It would be even better if that window treatment was also able to effectively block outside light from coming in.
What we recommendfor tall & high ceiling windows: Motorized shades or plantation shutters. Motorized shades can open or shut with the quick flip of a switch, without any hassle. Alternatively, with plantation shutters several homeowners choose to tilt the louvers to a single ideal position, and seldom, if ever reposition the louvers. Both options tackle the biggest problem of tall windows!
See More High-Ceiling Window Treatments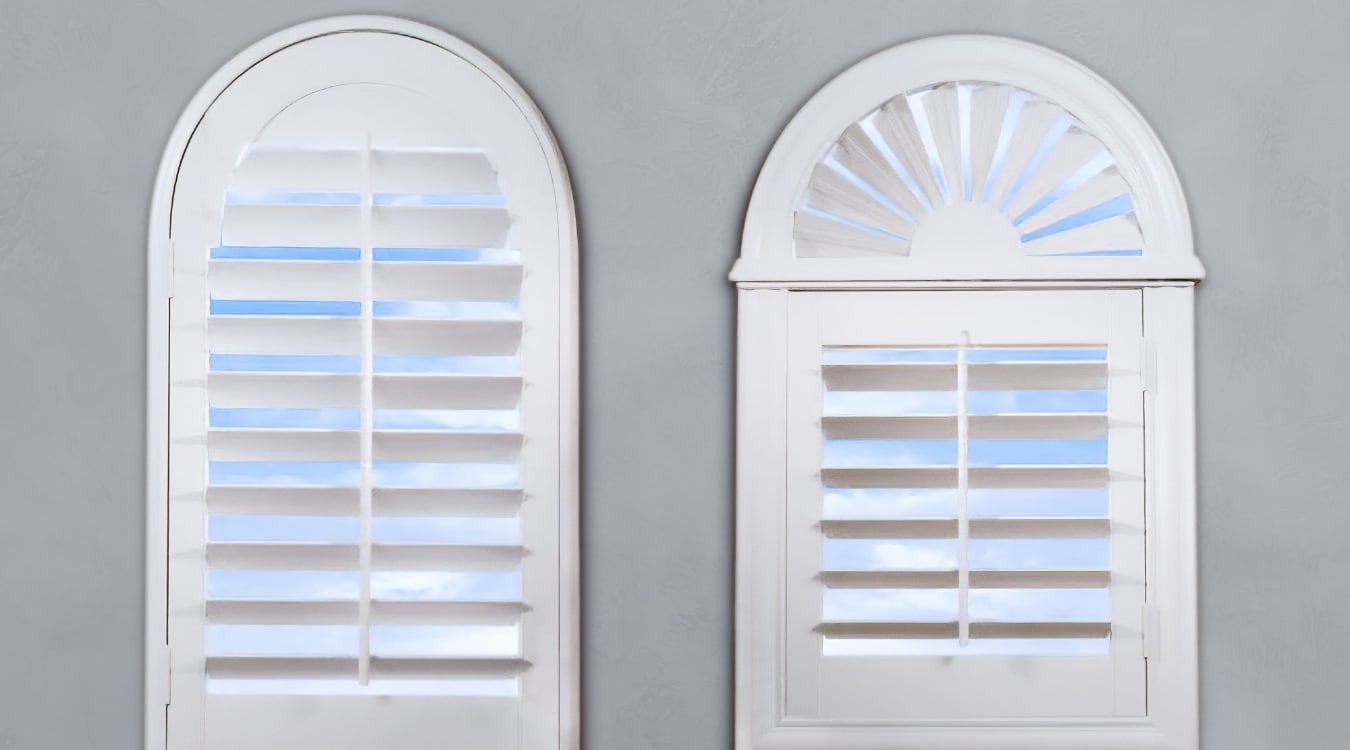 Eyebrow windows are those semi-arched windows typically positioned above other, standard rectangular windows. Due to their position and curved shape, eyebrow windows come with issues that no other windows do when it comes to picking the perfect window treatment.
What we recommend for eyebrow windows: Plantation shutters. Just about every other window treatment has serious drawbacks when put on eyebrow windows. Shades, drapes and blinds mask the interesting shape and any long window treatment might cover the empty space between the eyebrow window and the rectangular window underneath it. Since shutters are custom-made to seamlessly fit in the frame of your window, they're far and away the best option for this window shape.
See More Eyebrow Window Treatments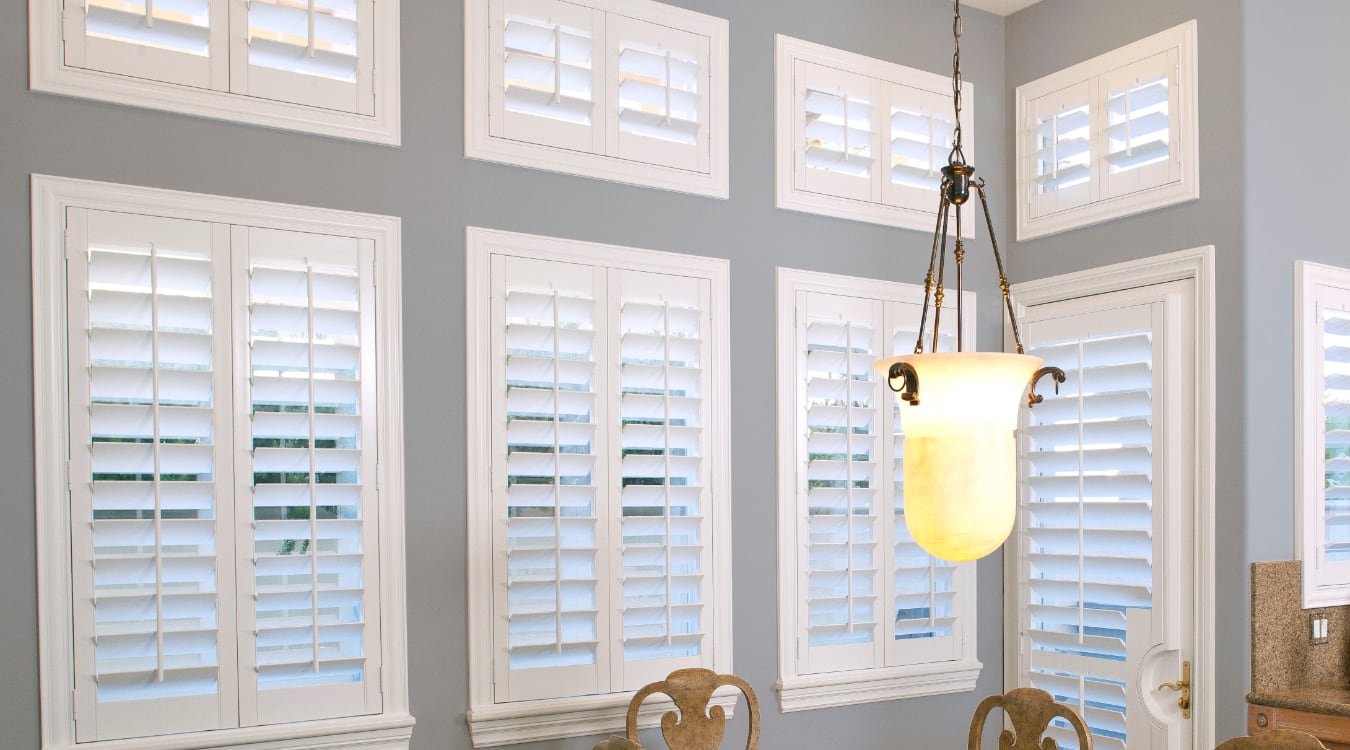 Casement windows are different from the majority of windows. Casements are hinged on a side, and open and shut by swinging on that hinge, usually by a lever or crank. Because of this unique opening mechanism, casement windows need an unobtrusive window treatment that can still look great and protect your privacy. So which window treatment is best for casement windows in Destin?
What we recommend for casement windows: Plantation shutters or shades. Plantation shutters can be installed on the wall around the window opening to make room for the crank or lever–which will allow you to open and shut your window effortlessly. Both Roman and cellular shades will also work well on casement windows, though you'll have to work around the material when you want to open and shut it.
See More Casement Window Treatments
Find More Destin Window Treatment Picks
There's more to consider than just the type of window when shopping for window treatments in Destin. Take a peek at our top picks for window treatments for each room in your home with Sunburst's Ultimate Room Guide, or get some personal help by scheduling an in-home design consultation by calling 850-203-0419 now.