Leading Window Treatments For Double Hung Windows In Destin
If Destin has pleasant weather, it's wonderful to find some fresh air and sunlight flowing in from the top of your double-hung windows. It's important to note, the vast majority of window coverings obstruct the upper pane when lowered.
To get privacy without covering up your upper sashes, install versatile plantation shutters or specialty shades that open at the top and bottom. These window treatments for double-hung windows in Destin deliver superior control of your home's comfort levels and privacy.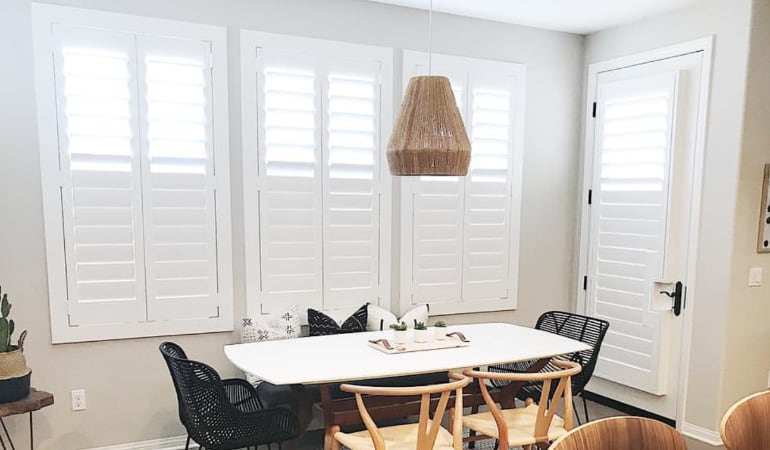 Control Airflow And Light With Plantation Shutters
Comparable to double-hung windows, you have the option of opening plantation shutters in two distinct manners: swing open each panel to uncover your window for full light or keep them shut and move the louvers using the center tilt bar for privacy and filtered light. Both options welcome in fresh air when you open either sash on typical double-hung installations. For the best air circulation, open up your panels and crack open both sashes so cool air flows in at the lower section, and hotter air exits through the upper section.
Plantation shutters offer functionality for different window types including double-hung tilt windows. Open your shutter panels and utilize the tilt option for ventilation. If you see fit, ask the installation team about placing your treatments with an outside mount so you can tilt the panes slightly with the shutters still closed. And of course, you can always use the louvers to change your light and privacy levels.
An additional solution is to use a divider rail in each shutter panel. This gives you the ability to open the top or bottom of the shutter panel to bring in sunshine while leaving the other part of the panel closed to protect your privacy.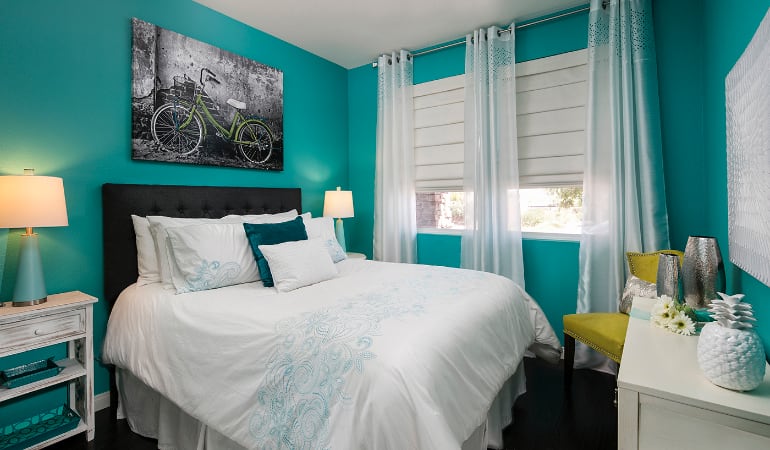 Enjoy Your Open Window and Privacy With Top-down/Bottom-up Roman Shades
Top-down/bottom-up Roman shades can be moved down at the top or up from the bottom, in a similar fashion to your double-hung windows. For this reason, they are an excellent choice for these types of windows when your goal is better airflow and light control without the whole neighborhood looking in at you.
Open your windows at the top and bring down your Roman shade to let in fresh air and sunshine while keeping the lower part of the window covered. Another option is to leave a small gap in the window and shade at the top and bottom for ventilation while keeping the majority of your window blocked.
Since you can keep your window shades fully expanded during many hours of the day, it's smart to choose something as alluring as Roman shades. The ability to customize to your exact interior make Roman shades an elegant accessory for your Destin home that your family will love.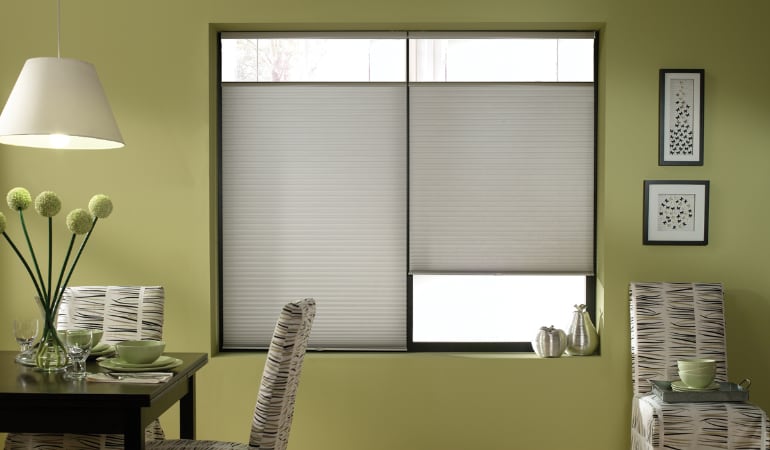 Keep Out Drafts With Top-down/Bottom-up Honeycomb Shades
Double-hung windows offer excellent ventilation on a beautiful day, but those adjustable sashes can lead to more drafts than other installations. One way to counteract this is through the use of top-down/bottom-up cellular shades. Also known as honeycomb shades, this treatment features cells within the fabric that hold the air coming around your sashes.
This smart process also cuts down on interior air loss. By doing so, honeycomb shades help make your inside temperatures consistent and your utility bills in check.
The impressive energy-saving ability makes honeycomb shades suitable Destin window treatments on double-hung windows all year long. Pull them open to match with your windows for a gentle breeze when the weather is nice and shut them again to protect your Destin house from extreme temperatures when the weather changes.
Contact Sunburst Shutters Destin About Window Treatments For Double-hung Windows In Destin
Take full advantage of your double-hung windows with premium shade or shutters from Sunburst Shutters Destin. Our experienced staff will provide the information you need on our wide selection of options and select the most suitable solution for your Destin home. Contact us at 850-203-0419 or fill out the form below to schedule a free in-home consultation.