Leading Living Room Window Treatments In Destin
Many Destin homeowners design their living rooms for entertaining guests, others for casual lounging. No matter your lifestyle preferences, the right window treatments will make your space more appealing and comfortable. Smart choices like Polywood® shutters or window shades bring another level of style and block unwanted glare and drafts.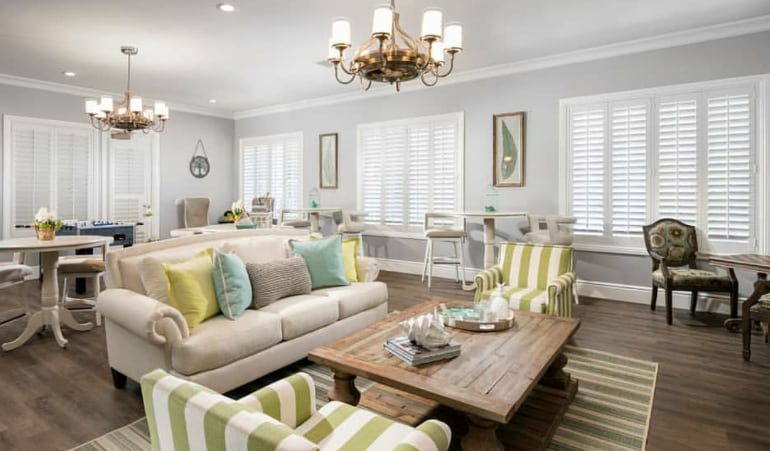 Plantation Shutters Keep Your Space Comfortable
For a large percentage of Destin residents, the living room functions as a multifaceted space where they play games, entertain friends, and relax after a long day. Popular plantation shutters are a smart choice for your living room. Polywood® interior shutters and real wood shutters are durable and low maintenance for families with kids and pets but stylish enough to make an impression on guests. Their wide louvers create a design focal point and require only a simple wipe with a cloth to get rid of messy fingerprints or dust before you have company over.
The easy-to-move louvers also let you control natural light in your living room. When you don't want all-out light, close the shutter panels and turn the louvers to direct glare out of the view of your visitors or off the TV. Or shut them completely when the sun is in full force to maintain your preferred comfort levels.
Some houses have oversized or a large number of windows in the living room. These allow in the hot sun and chilly drafts. While stunning, they are known for letting in excessive heat and cold drafts. They add panache but also allow heat and drafts that elevate your energy costs and impact the comfort of your room. If you want energy-efficient living room window treatments in Destin, think about the benefits of interior shutters. Polywood® products minimize the impact of drafts and the sun's heat better than other options to create a pleasant interior environment for all of your activities.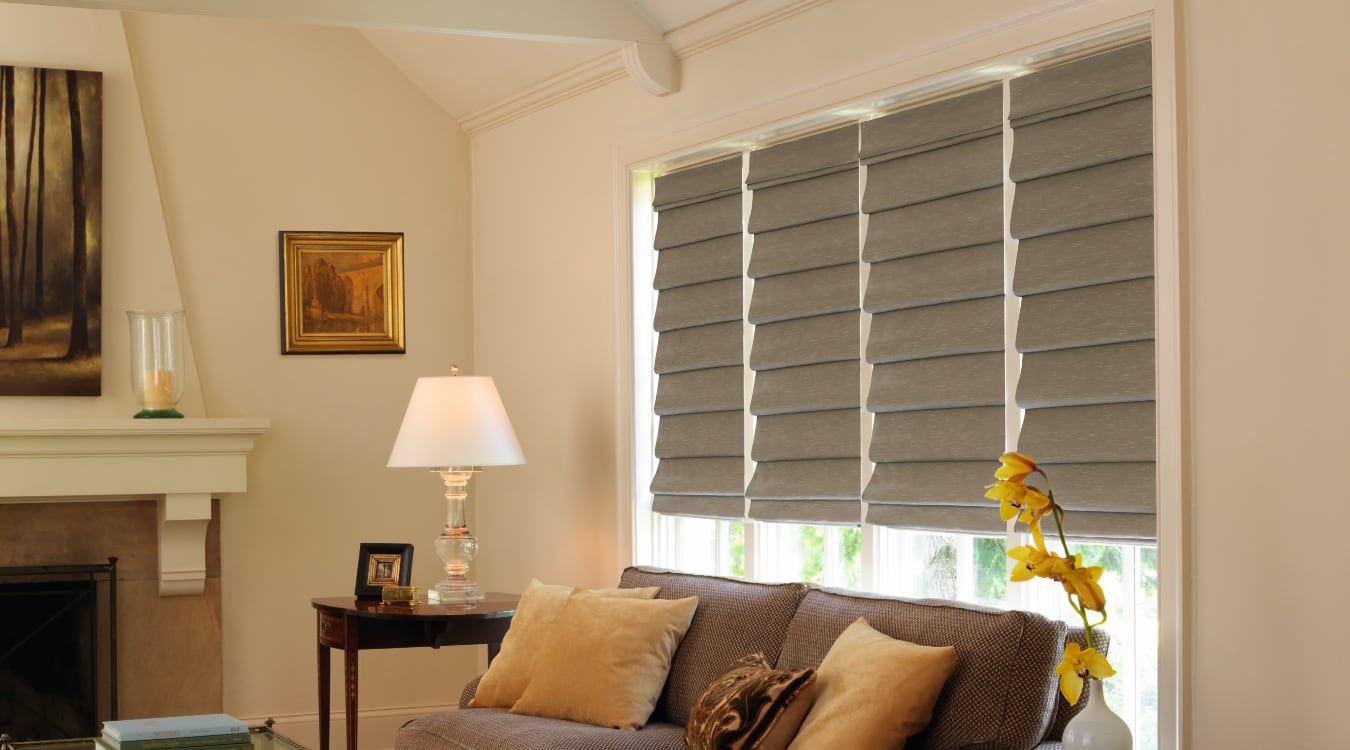 Roman Shades Deliver Function And Appeal
Depending on your design preferences, you may decide to go with another type of window covering . With that being said, there's no reason to trade functionality for appearance. You will receive the best of both worlds with attractive Roman shades.
As you raise Roman shades, the material gathers horizontally but without the hassle of pullbacks like drapery. Instead, Roman shades are adjusted effortlessly with a lifting mechanism that can be corded or cordless. Or get motorized Roman shades so you don't have to stop what you're doing to adjust the shades can adjust your shades with the touch of a button. You don't need to break away from a guest to adjust the shade. You can find Roman shades in many colors, patterns, fabrics, and hardware finishes to perfectly complement the existing decor of your living room.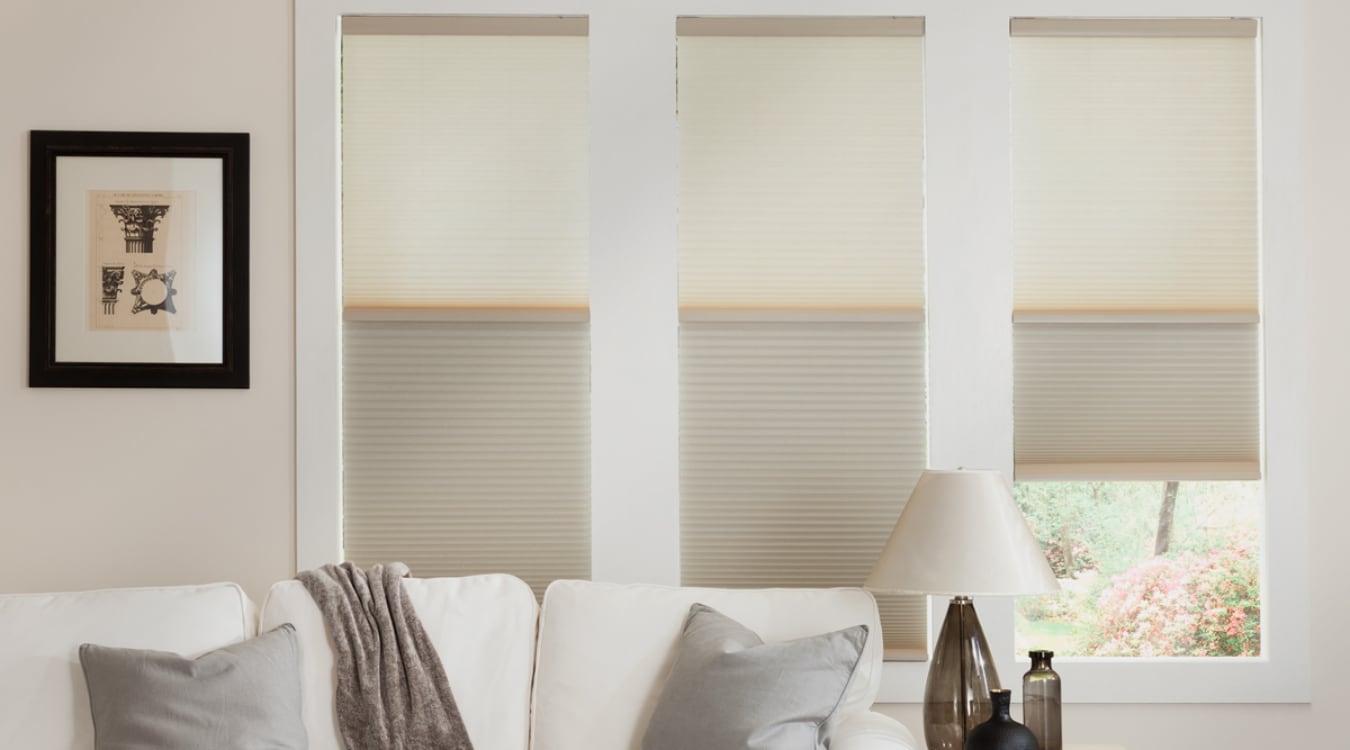 Cellular Shades Improve Energy Efficiency
Another excellent option for energy-efficient living room window treatments in Destin are cellular shades. The built-in fabric compartments capture air to reduce drafts in your home. This important feature will help you stay warm when you're lounging during the winter on the living room couch and keep you cool throughout the warmer seasons when you're hosting a party.
If you're thinking about buying cellular shades, don't be worried about how they look. They are available in numerous colors, textures, and pleat sizes to blend with your interior decorating scheme. You can also choose between blackout or transparent materials and all levels in between to reach your preferred quantity of natural light and privacy. For all-around adaptability, check out shades that let you open them from the top for sunlight while maintaining coverage on the lower half to keep your area private.
Looking For The Right Living Room Window Treatments In Destin? Discuss With The Specialists At Sunburst Shutters Destin
Add comfort, efficiency and style to your Destin living room with finely-crafted window treatments from Sunburst Shutters Destin. Our consultants will answer your questions and offer a custom plan for your living room. To get started with a free in-home consultation dialreach out to 850-203-0419 or fill out the form below.