How To Choose The Best Window Treatment for Sliding Doors in Destin
When shopping for the best window treatments for Destin homes, sliding doors are occasionally left out. That's bad news, since selecting the right window treatment for your sliding door can be more important than any other window, given how much they are utilized and the potential visual boost they can add to your home.
Sunburst Shutters Destin is happy to help you find the perfect window treatment for your sliding door. Let's get started with the primary considerations to bear in mind for sliding door products, and then dive into specific treatments that might work in your home.
Sliding Door Window Treatment Considerations
Keep these properties in mind when looking for your ideal sliding door window treatment:
Longevity: Doors tend to be used more frequently than windows, so choose a treatment that can handle the wear.

Orientation: Sliding doors move horizontally, whereas typically windows operate vertically. Be mindful that your window treatment doesn't obstruct the usage of your door, understanding how much space is available to the sides of the door.

Light & Privacy control: Sliding glass doors are very big compared to most windows, so a window treatment that adds great control over light and privacy is important.
Recommended Treatments for Sliding Doors
Polywood Plantation Shutters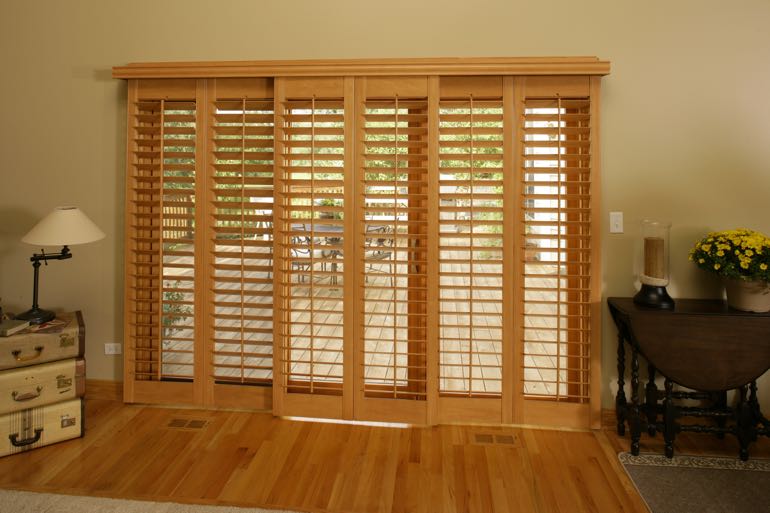 The first product we'll look at is also the one we recommend above all others. Plantation shutters fulfill all three of the requirements for a great sliding door treatment. Sunburst Polywood® plantation shutters in particular are an excellent option. Polywood will never discolor or fade, so your home preserves that classic, sophisticated aesthetic. Plantation shutters are also extremely energy-efficient, giving you the greatest control of heat and light that comes into your home.
Perhaps the most notable strength of shutters when paired with sliding doors is their resilience. Sliding doors will most likely be opened and closed much more than windows, so the ability to withstand repeated usage is key. Polywood shutters are impervious to breaking, warping, or cracking, so you can rest assured no matter how much action your sliding door sees, your shutters will make your space beautiful for years.
Sliding Door Vertical Blinds
Another common option for sliding glass doors in Destin is vertical blinds. Named for their orientation, these blinds hang vertically, suspended from a track above your sliding door. If you have a certain color scheme you want your window treatment to fit into, vertical blinds might be the product for you, as they're sold in an array of different colors, materials and textures. You can also customize with a cord tilt, motorized or wand/cordless mechanism to make opening and closing them easy.
Bear in mind though that there are a couple drawbacks with vertical blinds. They tend to not block nearly as much light as shutters will, even if the blinds are completely shut. Blinds also tend to sway side to side, meaning less privacy when closed. Blinds are also infamous for breaking if subjected to constant use.
Sliding Door Panel Tracks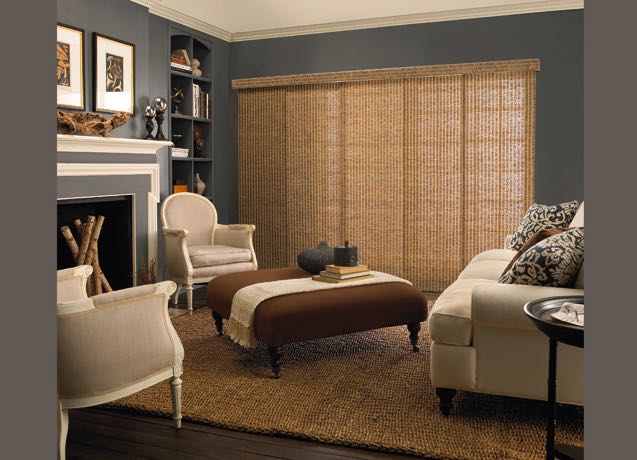 Sliding panel tracks are primarily chosen for larger windows, making your sliding door an ideal place for a stylish panel track installation. With their tendency to adjust for light and privacy and simple operation, panel tracks are perfect for sliding doors in spaces in which you'll often have guests.
Basically, panel tracks are individual wide panels of material that adjust on a track—like very large vertical blinds, but they only open and shut, meaning they don't tilt. They can be found in a number of materials, from wood to natural fibers to fabrics and beyond - so you can find an option that fits your Destin home's style.
Depending on the height and width and orientation of your sliding door, you're able to select arrangements for a sliding panel track so it can close on one end or in the center, letting you add function to your fashion.
Let's Find Your Best Fit
Your sliding door could be the most noticeable window in your Destin home, so we want to help you make sure the window covering you select is the right one for you. Check out the
Sunburst Idea Gallery
for some design inspiration, then call Sunburst Shutters Destin today at
850-203-0419
to set up your free in-home design consultation and eliminate the guesswork from your home design.