Five Ways To Create The Ideal Media Room In Destin
Today's audio and video tech makes it easier than ever before to immerse your senses in TV, movies, and gaming while relaxing in your own media room. This is the reason why residents of Destin are inspired to create home media rooms. But what should you have to make an incredible home media room? From the right window treatments to soundproofing, explore these five suggestions for creating a media room in Destin that the whole family will enjoy.
#1 Take Charge Of Exterior Light With Plantation Shutters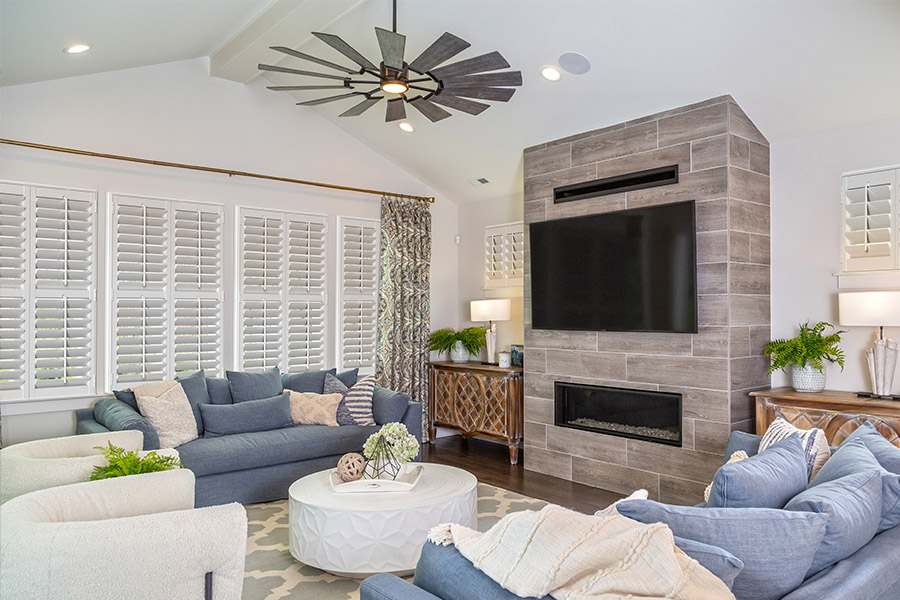 Nothing ruins a movie like sun glare on the TV. Adjustable interior lights help, but what what's best for outside light? Use
louvered shutters as window treatments
in your media room in Destin for superior light management. Louvered shutters have a frame that encompasses your window frame to inhibit exterior light. These durable products also consist of hinged panels with adaptable slats that shut closely to achieve near-total darkening. You may also tilt the louvers to a different angle to shift light off TVs or your sightline without having your room appear to be an underground cavern.
In the event you select Polywood® shutters, you'll achieve better energy conservation too. These synthetic shutters stop heat from the sun and cooler breezes to allow your media room to maintain a comfortable temp. They are capable of preventing as much as 30 degrees of temperature transfer, reducing your energy expenses.
#2 Enhance Your Media Room's Acoustics With A Few Minor Refurbishments
As soon as you conquer the illumination in your Destin media room, tackle the audio experience. Drywall is sufficient for media rooms walls, but your basement's concrete ruins the quality of sound. The easiest way to minimize echoes in your lower ground media room is by installing acoustic paneling. In the event you have to perfect the sound quality in your media room, look for easy-to-install sound barrier or absorption solutions. Then add in window treatments, like shutters, to control exterior noise.
#3 Choose The Appropriate Electronics
The proper electronics will give you superior audio as well. Begin with your surround sound setup. Many residents prefer Wi-Fi connected components because you won't have to deal with hiding wires.
You'll also want an amazing television. Popular LED TVs offer excellent brightness, but 4k units typically have better contrast levels and wider viewing angles. Or get a projector and screen for a large media room. Whatever video option you select, place it further up your wall for the ultimate in viewing.
#4 Find Cozy Seating Options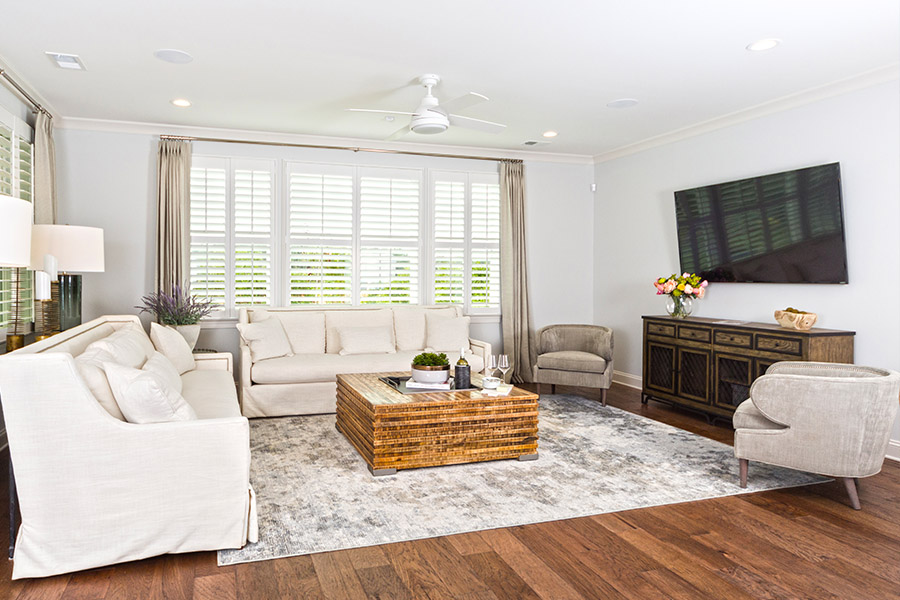 You won't be able to take pleasure in the big game without a comfy seating option. If your goal is home theater vibes, look for theater seats with reclining backs and incorporated drink holders. For gamers, get the right number of gamer chairs. A large, comfy sectional is a good idea too. While you're at it, add a few blankets and maybe a pillow or two to get ready for those movie marathons.
#5 Customize With The Theme of Your Choice
Customize in whatever fashion you would like when creating a media room in Destin. Are you a fan of a particular sports team? Do you want to give the impression that you're inside a real theater? Replica movie posters, a classic popcorn maker, and bold colors will reinforce the intent of your media room.
For a more subtle feel, focus on a favorite color scheme. Warmer hues with wooden finishes and coordinating Ovation® shutters will make your media room feel comfy. You might also make it light and airy with softer, neutral shades and Polywood shutters.
Talk To Sunburst About Window Treatments For Your Media Room In Destin
The specialists at Sunburst Shutters Destin will help you find the best window treatments for your media room. At your no-cost on-site consultation, we'll reveal how samples look in your space before you make your final selection. Arrange yours today by calling 850-203-0419 or by completing the form below.