Destin Window Treatment Ideas For Doors with Half Glass, Full Glass, And Custom Windows
An entrance featuring glass panes looks lovely in your property and brings in the benefits of sunlight. But what happens when the entrance is constantly blasted by the sun or gives outsiders a clear view into your Destin home? Interior shutters, transitional shades, and Roman shades all deliver appeal and protection if you're looking to install Destin window treatments for a door with half glass, total glass, or custom windows.
Install Durable Shutters For Attention-Getting Destin Window Treatments On Doors With Half Glass, Complete Glass, And Round Windows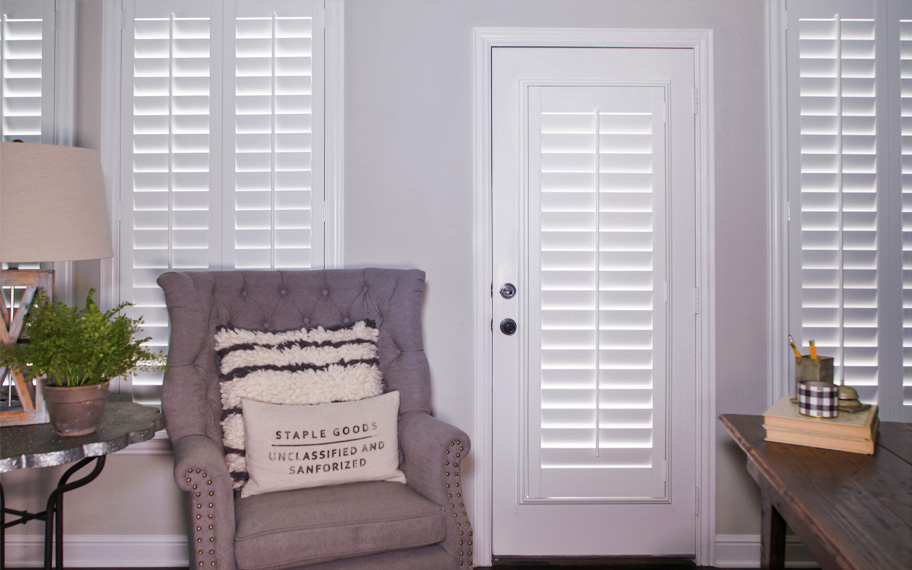 Your door is a conspicuous design element that visitors will take note of at your Destin house, so your window covering should leave a good impression. Faux-wood shutters are impressive on doors. This product lends a focal point to your entrance, and the movable louvers let you adjust the levels of light and privacy. Plantation shutters are also the perfect Destin window treatments for doors with half glass, complete glass, and customized glasswork because they can be made for windows of any size or shape. Customized shutters can work with an [[arched or circular window's shape]67] when other window treatments cannot.
Faux-wood shutters are the most durable window treatments you can pick for your doors. They can withstand knocks from little ones and dogs jumping on the door, and grimy paw and hand prints clean up in a cinch. These tough window treatments will never split apart or warp from cool or humid air flowing past your door. And this product doesn't thump or glide against the door like standard metal blinds. The bottom line is they maintain their appeal for a very long time..
Use Roman Shades To Manage The Sun's Rays With Style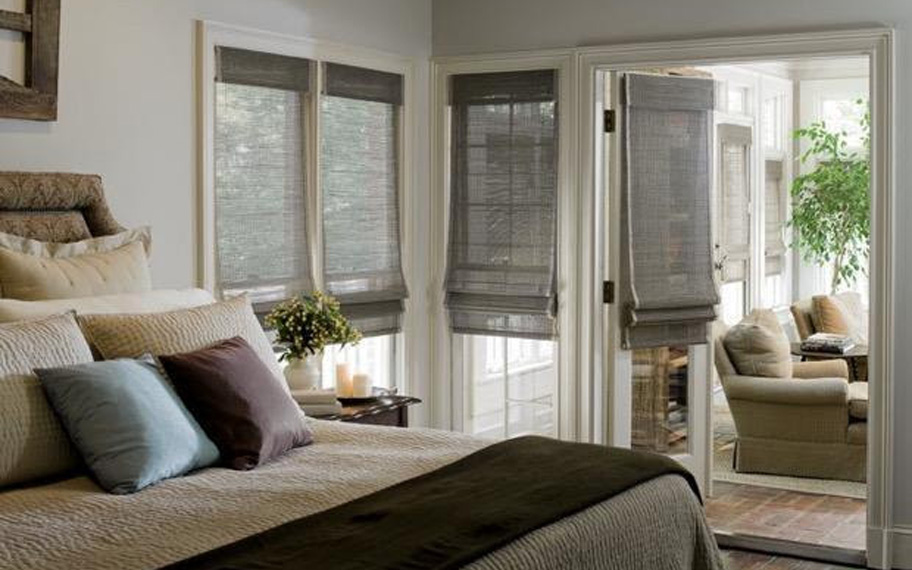 Doors with glass add to your decor but can become problematic if they direct sun glare into your field of view. Fashionable Roman shades make excellent Destin window treatments for doors with half glass or whole glass because they are available in a range of transparency levels. In the event your door is positioned east or west, you can incorporate a less transparent option to block the intrusion of direct sun. If large trees or a porch roof provide shade, a more sheer Roman shade will let in your preferred level of light. You also have the option of using versatile top-down/bottom-up products for a nice injection of light while preserving your privacy below.
Roman shades offer the added benefit of coming in a multitude or styles to mesh nicely with your Destin home's architectural style and palette. Shades of varying patterns and colors enhance an otherwise basic glass door. When your entry has tinted glass or a beveled edge, select a shade of uniform color so you can avoid using a pattern that clashes with the glass design.
Use Zebra Shades For The Ultimate in Light Management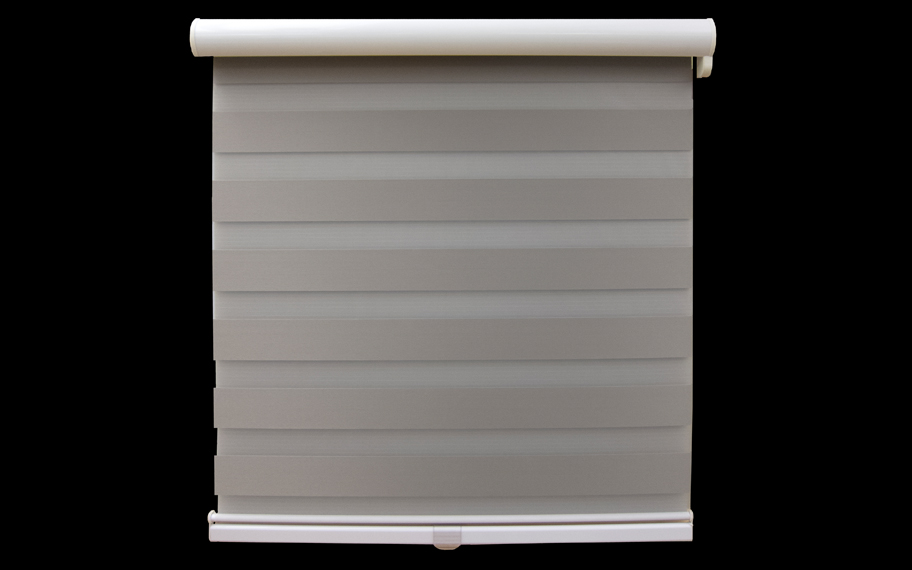 Zebra or transitional shades mix effective privacy with versatile light management. They are made from thinly cut material and stay close to the door. Zebra shades are a unique take on roller shades as they have continuous looped fabric with solid and sheer segments in alternating stripes. The positioning of the front and back panels is adjustable so you can view outside through the sheer fabric and bring in filtered sunshine or set the non-transparent lengths over the sheer to obstruct light flow while ensuring privacy.
These highly functional shades come in a variety of materials, patterns, and colors. You can also choose how to operate your zebra shades. On a door, you most likely want cordless window treatments as cords will get ensnared or entangled within the hinges. For the best in modern function, you may choose an electric-powered option that adjusts with the pressing of a remote if you need to alter the amounts of outdoor light and privacy.
Enhance Your Door With Window Treatments From Sunburst Shutters Destin
At Sunburst Shutters Destin, we carry only the best window treatments for your doors with glass panes and every other window in your Destin property. Give us an idea on what you're looking for, and we'll find the right choices for all of your needs. To start with a complimentary on-site appointment, reach out at 850-203-0419 or complete the ensuing form.