8 Ideas for Using Reclaimed Wood in Your Destin Home
This might surprise you, but reclaimed wood has a lot of appeal to Destin homeowners, who seem to have a passion for its natural look and how it spruces up their home décor. It's making definite inroads as a new way of repurposing weathered wood and fully expressing your personal style. Reclaimed wood products draw one's gaze whether it's part of a wall, your cabinets, or – imagine it! – your windows. Need a bit of reclaimed wood inspiration? We've selected 8 sensational ideas for you – each and every one applied to wonderful effect in Destin homes.
1.Use Reclaimed Wood on Your Windows
For the first time ever, you can easily own reclaimed wood as a window treatment. Sunburst Shutters now offers a plantation shutter created from the best possible reclaimed wood. To be sure, Sunburst is the lone company offering you reclaimed wood shutters in the Destin area. We got our hands on the reclaimed wood you love and used it to create a louvered shutter that's incredibly beautiful and remarkably functional at the same time.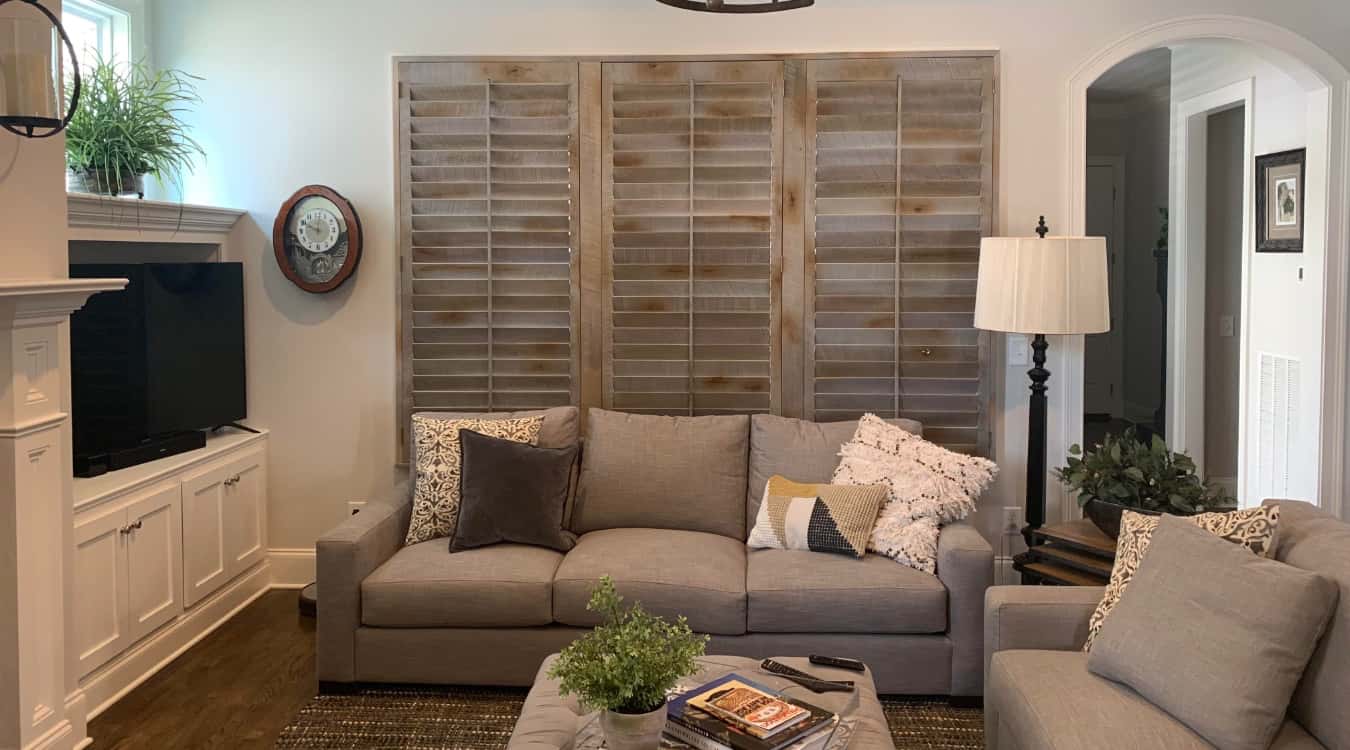 Reclaimed wood can provide a truly exceptional window treatment. You've got a head start, for sure, when your reclaimed wood shutters are a work of art in their own right. And Sunburst sees to it they are. You'll find joy in their smooth, simple operation as well as their look. Tilt the louvers open to admit more light. And tilt them closed to enjoy fully the weathered look of reclaimed wood on your window. Find out more about reclaimed wood for windows in Destin
2. Reclaimed Wood for Your Wall
Nothing brings the outside into your home as wonderfully as a reclaimed wood wall. Reclaimed wood paneling turns your wall into a quiet but compelling showpiece and adds a homey feel to the room. No matter if you have a TV, bookcase, fireplace, or artwork to accentuate, a reclaimed wood wall will look gorgeous behind it and give you the very effect you you desire.
3. Used Reclaimed Wood for Floors
Want to redo a floor in your house? Lots of wood flooring can lend warmth to a room, but flooring of reclaimed wood has an unparalleled beauty perfected in the time – usually decades – the wood has been outside. No matter if you like the great outdoors or just like the look of weathered wood, you'll be blown over by what a reclaimed wood floor can do to make your home feel new again.
4. Reclaimed Wood and Cabinets
Because of the reclaimed wood's growing popularity, now is the perfect time to spruce up your kitchen cabinets. It's the natural way to make your kitchen the warm, inviting haven you've always hoped it could be. Each panel of reclaimed wood evokes an incredible story – of many years during which it languished in a forgotten building, for instance, or as part of a fallen barn or fence. And a bit of that tale will endure in your reclaimed wood cabinets, crossing your mind each time you lay eyes on them.
5. Reclaimed Wood Makes a Great Table
A tabletop made of reclaimed wood can add a modern, assuredly different ambiance to your dining room or home office. Unite the wood tones with your décor for a harmonious look that satisfies your creative vision – while it elicits praise from guests!
6. Using Reclaimed Wood for Bookcases
Apart from how important they may be to us otherwise, books make great decorative pieces. Place a book or selection of books on a coffee table or end table, on a bookshelf, or in a big bookcase, and they'll inevitably draw the eye. Their charming variety is both accentuated and brought together in bookcases of natural wood, too. And bookcases of reclaimed wood, given their natural colors, knots, holes, scratches, and other telling features, prove to be an especially attention-getting, one-of-a-kind furnishing.
7. Reclaimed Wood for Frames
The understated, natural look of reclaimed wood is ideal for picture frames. It actually can enhance your favorite artwork and most cherished photos in a decidedly splendid manner. Note as well that frames of reclaimed wood can be put together in a plethora of styles, thus they'll complement just about any interior look you've created.
8. Redo Your Headboard in Reclaimed Wood
Not much can revive the appearance of a bedroom like a smartly designed and constructed headboard. It's really a matter of preference nowadays as to whether people have their headboard directly affixed to the bed or attached to the wall behind the bed. Either way, a headboard adapted from reclaimed wood planking can be quite beautiful. It's natural hues and effects of weathering are easily adapted to an expansive range of styles, from antique to modern. With reclaimed wood, your design sense can truly soar, making it possible for you to achieve the headboard of your dreams!
Inspiration Comes Easy with Reclaimed Wood
We hope we've inspired you with these 8 ideas for getting the most out of reclaimed wood. As you might expect, though, we have plenty of other ideas kicking around – ideas that blend well with the reclaimed wood shutters only we offer in Destin. All of us here will be more than happy to show you samples of our shutters, answer your questions, and help you explore additional design ideas. Give us a call at 850-203-0419 to schedule your free in-home design consultation at your first opportunity!